Public Domain image of Josefa de Óbidos' painting of St. Teresa of Avila
St. Teresa of Avila has long been one of my favorite Saints. I have always been fascinated by her story.
Teresa had partial Jewish heritage. Her paternal grandfather was Jewish, and forced into conversion to Christianity. Even though we share Jewish heritage, I did not know of the Judaism in her family until after I discovered how compelling she was and did further reading about her.
Chronic illness followed Teresa throughout her life. She also had multiple experiences of religious ecstasy. Her ecstasies and spiritual visions were a source of heated debate among her contemporaries. Many thought they were not genuine. Later she would go on to found a new order and many new convents. She was also a prolific writer, her words revealing her thoughts on prayer.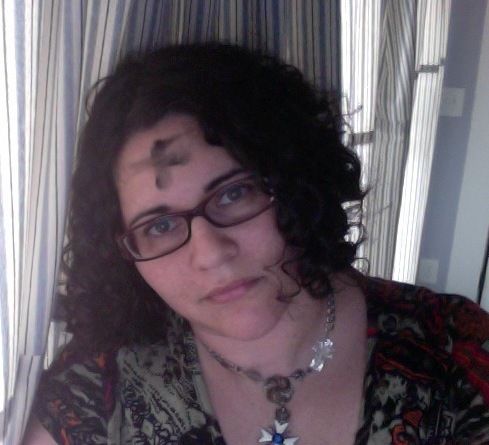 Me on Ash Wednesday
Lent began with Ash Wednesday this week. As most people know, we are asked to give something up for Lent. However, you can also decide to take on a new spiritual practice rather than give something up. This year, I was praying for direction about what course to take for Lent.
In answer to these prayers, I was led to take on daily devotion using a book based on Teresa of Avila's writings about prayer.
The book is called Meditations with Teresa of Avila by Megan Don
.
I have been waking up earlier to begin each day with a passage from this book. I always take comfort in the increased mindfulness Lent produces.
For those who observe Lent, I pray you have a meaningful Lenten season.